March 16, 2016 1:13 am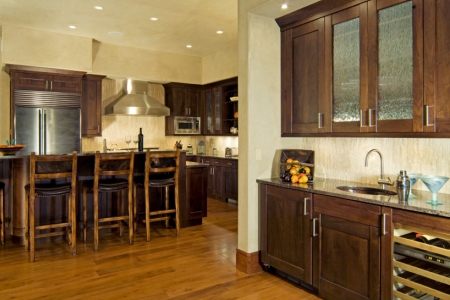 (BPT)—Planning to entertain guests in your home? Become the host or hostess with the most (or most-ess) with a feature that's a mainstay at most parties: the built-in bar.
"Today, the term 'built-in bar' covers a variety of possible set-ups," says Linda Jovanovich of the American Hardwood Information Center (www.hardwoodinfo.com).
At its simplest, a bar may occupy the end of a kitchen island—nothing more than a short length of dedicated countertop above a neat grid of cubbyholes to store wine and a small fridge. Slightly more ambitious bars comprise a niche or door-less closet fitted with wood shelves and cabinets, a countertop and perhaps a faucet and sink. A step above are more imposing versions, like the modern equivalent of a traditional butler's pantry—fully-plumbed stations where not only drinks, but also hors d'oeuvres can be prepared and served.
"Many houses and apartments have a closet or unused space that can easily be converted into an attractive and useful built-in bar," says Laura Bohn, a New York-based interior designer. "If you live in a house with stairs, the space beneath them is often an ideal place to install a small, modestly-equipped drinks center. It should be able to accommodate enough countertop to prepare cocktails, enough storage for a liquor cabinet, and maybe enough room for a fridge or wine cooler."
One advantage of using such confined spaces for built-in bars is that they can be closed off when not in use, so that a commandeered closet looks just like a closet, or an appropriated staircase looks just like a staircase.
However, "a well-designed, well-crafted hardwood mini-bar needn't be hidden. Made of walnut, cherry or some other distinctive wood—my favorite is maple—it can be an integral and pleasing a part of the décor," Bohn adds.
Ideally, larger butler's pantry-style built-in bars are located discreetly in transitional spaces between kitchens and adjacent dining or living rooms. In today's open-concept homes, such built-in bars, often dubbed buffets, are likely in either the kitchen or living area itself—wall-spanning installations in full view of guests.
"Walnut is very popular right now for this type of bar," says Christine Donner, a Connecticut-based kitchen designer. "It is an elegant wood and its cool tones complement the white-and-silver palette that my clients currently favor. It can be bleached to a lighter tone, left natural or stained much darker, almost all the way to black. Limed oak, bleached to a lovely honey-blonde color, has a marvelous midcentury-modern feel that is slowly catching on, too."
And functionality is as important as aesthetics. "Wine connoisseurs often have an extensive collection of varietal-specific glasses that they want displayed, so I get asked a lot for glass-fronted cabinets with interior lighting," Donner says. "Much of this stemware is oversize or extra tall, so I make sure the shelves can accommodate their height. And I always include solid-door cabinets to stow motley collections of assorted liquor bottles."
Cabinetry can also be used to conceal icemakers, refrigerators, bottle-cooling drawers, dishwashers and other unsightly appliances and equipment.
A sink, while not a necessity, can be practical, as well.
"Less for the water coming out of the spout than as a place to dump out old drinks or melted ice," says Donner.
Published with permission from RISMedia.